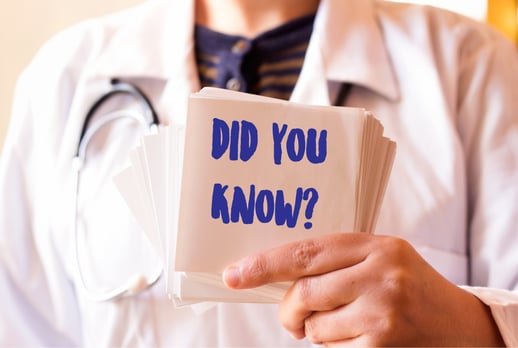 Diabetes affects 24 million people in the United States. Fortunately, there are now a number of new medications to help improve blood sugars. Initially, most diabetics are started on Metformin. Subsequently, there are a number of newer medications, but in this blog, GLP-1 Receptor Agonists will be highlighted.
Metformin
Metformin is usually the first medicine that is used to treat diabetes. It reduces insulin resistance, improves the absorption and utilization of glucose into the tissue, and it decreases glucose production in the liver. In some instances, Metformin is not tolerated because it can cause diarrhea and other GI symptoms.
What is a GLP Receptor Agonist?
GLP-1 receptor agonist stands for Glucagon Like Peptide-1 Receptor Agonist, and these medicines are usually referred to as GLP's for short. GLP-1 is a hormone that is made in the last part of the small intestine and in the large intestine.
How do GLP's Work?
GLP-1 Receptor Agonists work by enhancing the effects of the natural GLP-1.
GLP-1 increases insulin release from the pancreas, but only in response to elevated blood sugars. They also decrease glucagon. Glucagon is a hormone that stimulates the breakdown of glycogen stores in the liver into glucose, and this is decreased by GLP's. Since GLP-1 receptor agonists enhance the effect of GLP-1, but only when the sugar is high, they have a lower risk of causing low blood sugar (hypoglycemia) than some medications. However, it can still occur, especially when it is used with other medications like sulfonylureas and insulin.


Other Benefits of GLP's
Weight Loss:
GLP-1 Receptor Agonists cause weight loss in two ways:
They suppress appetite in the brain.
They slow the movement of food from the stomach into the small intestine.
This causes an individual to feel feel full faster and for a longer period of time; resulting in less food consumption. This benefit occurs in both diabetics and non-diabetics. With weight loss, one has less insulin resistance, therefore, the insulin works more efficiently. By losing weight, it makes being more active and exercising more frequently much easier; which can then result in more weight loss.
Lower the Risk of Cardiovascular Events:
Approximately 1/3 of people with Diabetes have cardiovascular disease, even if it is not yet symptomatic. If an individual has Type 2 Diabetes with established cardiovascular disease, GLP-1 Receptor Agonists can lower the risk of heart attacks, stroke, and cardiovascular death. This is particularly advantageous because people with diabetes have a much higher risk of developing cardiovascular disease. In addition to using more aggressive guidelines for goals in high blood pressure and cholesterol in those with cardiovascular disease, GLP-1 Receptor Agonists lower the risk further. Study evidence shows that using GLP's such as Dulaglutide (Trulicity), Liraglutide (Victoza), and Semaglutide (Ozempic) decrease cardiovascular risk.
In addition to improving blood sugars, weight loss, and lowering the risk of cardiovascular events, data from prior clinical trials and trials currently underway have shown other benefits of GLP's such as lowering blood pressure, improving cholesterol, and preserving kidney function in diabetics. Chase Medical Research has conducted prior trials in these areas and also has ongoing trials in GLP's and other diabetic medications.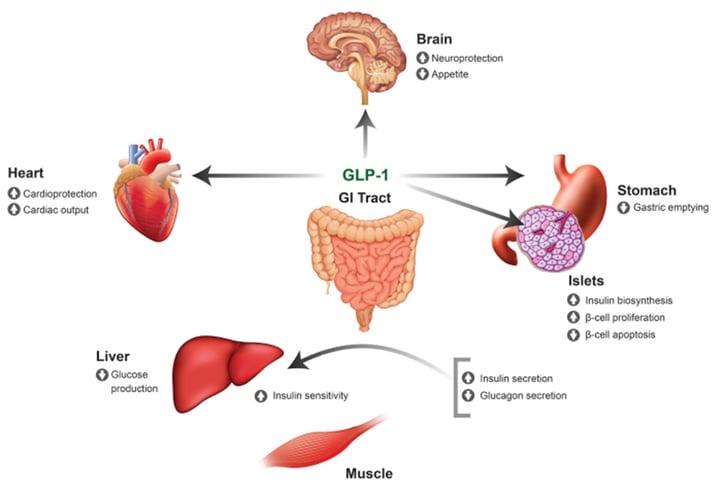 Actions of GLP-1 in target tissues. From Diabetes Spectr. 2017 Aug; 30(3): 202–210. doi: 10.2337/ds16-0026.
GLP's Approved by the FDA
Some of the GLP-1 agonists on the market are Ozempic, Byetta, Bydureon, Victoza, Trulicity, Tanzeum, and Rybelsius. The newest medicine is Mounjari (Tirzepetide). Mounjari works by 2 mechanisms because it is not only a GLP-1 receptor agonist, but it is also GIP receptor agonist (Glucose Dependent Insulinotropic polypeptide). Mounjaro has the biggest effect on hemoglobin A1c lowering and weight loss, likely because it has 2 mechanisms of action in one medication.
Side Effects
Nausea and vomiting are the most common side effects, but some people can also get diarrhea, constipation, decreased appetite, and abdominal pain. Side effects can generally be avoided by starting at a low dose and increasing the dose very slowly. Frequently, the body gets used to the medicine, and side effects go away. Talk to your doctor before making any adjustments with your medications.
References:
Authors: Syona S Shetty and Andrew Krumerman, et al. "Cardiovascular Diabetology." BioMed Central, 28 June 2022, https://cardiab.biomedcentral.com/.
GLP-1 Receptor Agonists: An Updated Review of Head-to ... - Sage Journals. https://journals.sagepub.com/doi/10.1177/2042018821997320.
Hinnen, Deborah. "Glucagon-like Peptide 1 Receptor Agonists for Type 2 Diabetes." American Diabetes Association, American Diabetes Association, 1 Aug. 2017, https://diabetesjournals.org/spectrum/article/30/3/202/32399/Glucagon-Like-Peptide-1-Receptor-Agonists-for-Type.
Hinnen, Deborah. "Glucagon-like Peptide 1 Receptor Agonists for Type 2 Diabetes." Diabetes Spectrum : a Publication of the American Diabetes Association, American Diabetes Association, Aug. 2017, https://www.ncbi.nlm.nih.gov/pmc/articles/PMC5556578/.
Stat Pearls, National Center for Biotechnology Information. https://www.ncbi.nlm.nih.gov/books/NBK551568/
Trujillo, Jennifer M, et al. "GLP-1 Receptor Agonists: An Updated Review of Head-to-Head Clinical Studies." Therapeutic Advances in Endocrinology and Metabolism, SAGE Publications, 9 Mar. 2021, https://www.ncbi.nlm.nih.gov/pmc/articles/PMC7953228/.
Tirzepatide versus Semaglutide Once Weekly in Patients with Type 2 Diabetes, N Engl J Med 2021; 385:503-515, DOI: 10.1056/NEJMoa2107519, 8/5/2021.
Share This Post
Recent Posts
Categories