Lyme Disease

Lyme disease is the most common tick-borne disease in North America. It is a disease caused by the spirochete bacteria Borrelia burgdorferi and transmitted by the Ixodes scapularis deer tick. Infection rates peak from May to late September when there is increased outdoor activity in areas of tick habitat. Incidence is highest in the Northeast, from shoreline areas such as Lyme, CT, where Lyme Disease was originally detected and named from, to Northeast CT with areas of forest/woods, particularly where there is an increase in deer activity. Midwestern states such as Michigan, Wisconsin, and Minnesota are also affected.
How To Get Diagnosed?
Diagnosis is made by a physician on a clinical exam and by blood laboratory testing.
Clinical Exam: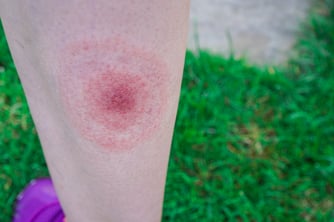 Most common presentation on physical exam is a bull's eye rash at site of tickbite called erythema migrans. This occurs early in the disease, usually 7 to 10 days after tick exposure. The rash is not necessary to be diagnosed, but if present it's diagnostic of Lyme disease and treatment with antibiotic can be started without additional testing. If left untreated, arthritis, neurologic complications such as bell's palsy and meningitis, and cardiac complication such as heart block can occur. Even if appropriately treated, one can develop post-Lyme disease syndrome. This is not an ongoing infection, but chronic recurrent symptoms of fatigue, headache, joint pain and arthritis.
Laboratory Testing:
Laboratory testing for Lyme disease is by examination of the blood sample, to check for antibodies against Borrelia burgdorferi. This is done in a two-step approach where the initial positive test is confirmed with an additional confirmatory test. Testing is not recommended if there is no objective signs of Lyme disease, if there is no tick exposure or in people who present less than 1 week after tick exposure.
Treatment
Treatment is with a course of antibiotics. Some patients may require intravenous antibiotic if complication of meningitis, or inflammation of the heart occurs or if Lyme arthritis fails to resolve with oral antibiotic.
A Lyme Disease Vaccine Clinical Trial is Underway
Here at Chase Medical Research we are now conducting a trial for a Lyme disease vaccine. If you are interested in participating in a future Lyme disease vaccine trial or any one of our other trials, don't hesitate to check out our home page for currently enrolling trials.
John, Teny M., Taege, Alan J. Nov. 2019. Appropriate laboratory testing in Lyme disease. Cleveland Clinic Journal of Medicine. Volume 86. No. 11

Meyerhoff, John. August 2019. Lyme Disease. https://emedicine.medscape.com/article/330178