Hyperlipidemia refers to elevated levels of lipids or fats in the blood, and contributes to formation of plaque in blood vessel walls. This in turn increases one's risk for heart attack, stroke and vascular disease. Hyperlipidemia includes cholesterol and triglycerides. Hypercholesterolemia, or elevated blood cholesterol, affects one in six adult Americans and data from 2009-2012 reports that over 100 million U.S. adults over 20 years of age have an elevated cholesterol level above 200.
Diagnosis of hypercholesterolemia is made by sampling one's blood. All adults with diabetes should be screened yearly, and all adults 20 years of age and older should be screened every 5 years. Males between 45 and 65 years of age and females between 55 and 65 years of age should be screened at least every 1 to 2 years. Adults over 65 should be screened yearly. Blood should be drawn in a fasting state for most accurate lipid values.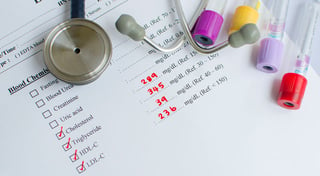 A treatment recommendation is based on LDL (Low Density Lipoprotein, or "bad" cholesterol) and patient's risk factor for cardiovascular disease. In patients with no risk factors, the LDL goal is less than 130. Major risk factors include cigarette smoking, hypertension, diabetes, low HDL (High Density Lipoprotein, or "good" cholesterol), family history of coronary artery disease in first degree relatives and stage 3 or 4 chronic kidney disease. In patients with very high risk for cardiovascular disease, the LDL goal is less than 70. Some patients with severe, progressive cardiac disease may need an LDL goal of less than 55.

Dietary recommendations include a reduced calorie diet, 5 or more servings of fruits and vegetables daily, whole grains, fish, and lean meats. In addition, one should limit intake of saturated fats, trans-fats and cholesterol.
With respect to medications, statins are the main treatment for LDL reduction. However, some patients do not tolerate statins due to muscle aches and elevated liver enzyme abnormality. Ezetimibe, or Zetia, can be added to a statin for greater LDL reduction. Other medications for elevated lipids include fibrates and omega-3-fish oil for triglyceride reduction. The newest medications are PCSK9 inhibitors, which are costly and require subcutaneous self-injection, but these medications have the most LDL reduction and can be useful for those who do not tolerate statins.
Finally, pharmaceutical companies are developing investigational medications which works in a similar pathway as statins; but unlike statins, it does not affect one's muscles. Therefore, it would have a similar benefit of LDL reduction without the side effect of muscle aches, experienced by many statin users. This could be a potential benefit for those individuals who need to reduce their cardiovascular risk with a statin, but suffer from statin intolerance.
Share This Post
Recent Posts
Categories